Extended 10-year Warranty
When you buy new fixtures, you want them to last a long time. So do we. Years of development and testing have gone into ensuring the moisture resistance of the Pisara bathroom furniture, made from Lamiwood. We provide an extensive, extended product warranty on this furniture.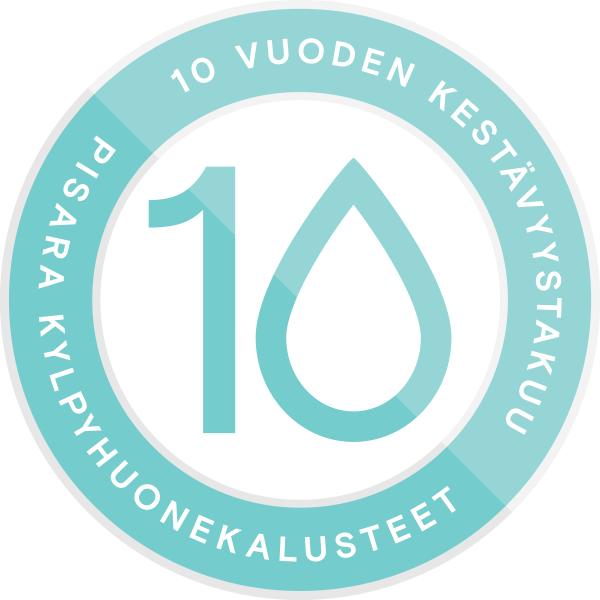 Terms of Warranty
APPLIES TO PRODUCTS PURCHASED AFTER 1 OCTOBER 2021
In addition to the rights based on consumer legislation, Opdeco provides an extended warranty of ten (10) years on the Pisara bathroom furniture and their parts from the date of delivery. A warranty of two (2) years applies to the electrical and lighting products available for the furniture.
The warranty covers the frames, front panels and doors, drawers and slide systems, hinges, fittings and pulls of furniture and cabinets, and the basins (excl. Tapwell basins where the manufacturer's terms of warranty apply). The warranty does not cover products delivered by third parties, such as taps, drain stoppers, towel rails, etc. The manufacturers' terms of warranty apply to these products.
The warranty does not apply to parts which normally wear out or need regular maintenance, such as seals, lamps, tap nozzles etc. The warranty does not cover scratches or other normal wear and tear caused by everyday use, nor any marks caused by damage.
Faulty parts are replaced with the same product or an equivalent product from the current range. The extended warranty only applies to the product itself. Installation and other costs are compensated within the boundaries of the law.
The warranty requires that the installation and maintenance instructions are followed and that all pipe, plumbing and electrical installations are carried out by a professional according to the valid regulations and norms. Should you detect any manufacturing defect or transport damage in the product, you must submit a notice of defect before installation and no later than 14 days after receiving the delivery.
The warranty does not cover damage caused by accidents or cold temperatures. The warranty becomes void if the products are used for a purpose other than the intended use or if any changes are made to their structure.
Our updated contact information for warranty inquiries and the installation and maintenance instructions can be found on our websites at opdeco.fi and pisarafinland.fi.