When shipping to Finland, you can pay in Euro
Svea Payments(Invoice, Part payments, Mobile payments, Finnish online banks, Credit Cards)
Klarna (Pay later, Part payments, Credit card, Finnish online bank)
Nordea Jousto (Part payments up to 36 months)
Direct Bank Transfer
When shipping to Sweden, you can pay in Swedish krona with Klarna (Pay later, Part payments, Swedish online bank payments, and credit card payments).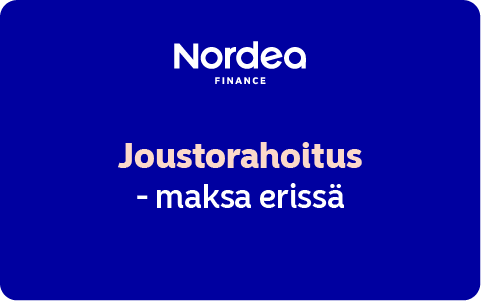 Svea Payments
Card Payments and MobilePay by Visa, Visa Electron, Mastercard or Business Eurocard
Paying with a credit or debit card is always easy and safe in our web store. Card payments and MobilePay payments in our webstore are provided by Svea Payments Oy in cooperation with Payment Highway and Bambora AB. During the transaction, all card information will be handled through a secure connection. Card numbers are not recorded in Svea Payments Oy's or the webstore's systems; the card data is processed by the technical service provider Payment Highway.
Online Bank Payments
You can pay for your order using any of the online payment buttons of Finnish banks. When you are using the online bank codes provided by your own bank and you want to pay for your purchase, you will be redirected for a while to your own online bank where you can pay for your order directly from your bank account. The recipient for the payment is Svea Payments Oy (or our auxiliary business name Maksuturva Group Oy), that is the payment service provider in our web store.
Part payment
Part payment is a one-time credit, which allows you to pay for your purchase with the payment period of your choice and fixed monthly instalment. You can choose the most suitable payment plan from the options offered at the webshop. The buyer must be at least 21 years old.
You can check your open Part Payments from My Pages.
You can read the terms and conditions of Part Payment here: General Terms and Conditions and Standard European Consumer Credit Information.
The use of Svea's part payment requires an approved credit decision. When applying for credit, the applicant gives permission to request information from other lenders on the customer survey information system of Suomen Asiakastieto Oy. We will also check the applicant's credit information. A customer, whose credit application has been rejected, has the right to apply for a new credit decision by providing additional information through contacting Svea's customer service.
Customer service
If you have any questions regarding invoices or part payment, please contact us at +358 9 4242 3330 or by contact form.
You can also check your open credits from My Pages.
Svea adheres to the Personal Data Act, for more information see our Privacy Policy.
Svea Bank AB (publ), filial i Finland (3237195-7)
Mechelininkatu 1 a
00180 Helsinki
www.svea.com
Nordea Jousto
Joustorahoitus is a convenient form of finance when you are looking to renovate your house or holiday home.
You can apply for Joustorahoitus when making purchases at Opdeco store or Pisarafinland.fi webshop (Euro payments and Finland deliveries only).
Get a loan up to 25,000 euros.
No annual fee.
Repayment period of up to 3 years.
Available to any bank's customers.
No down payment, guarantors or security required
For more info please contact Opdeco opdeco@opdeco.fi or read more at Nordea Joustorahoitus page.
Klarna